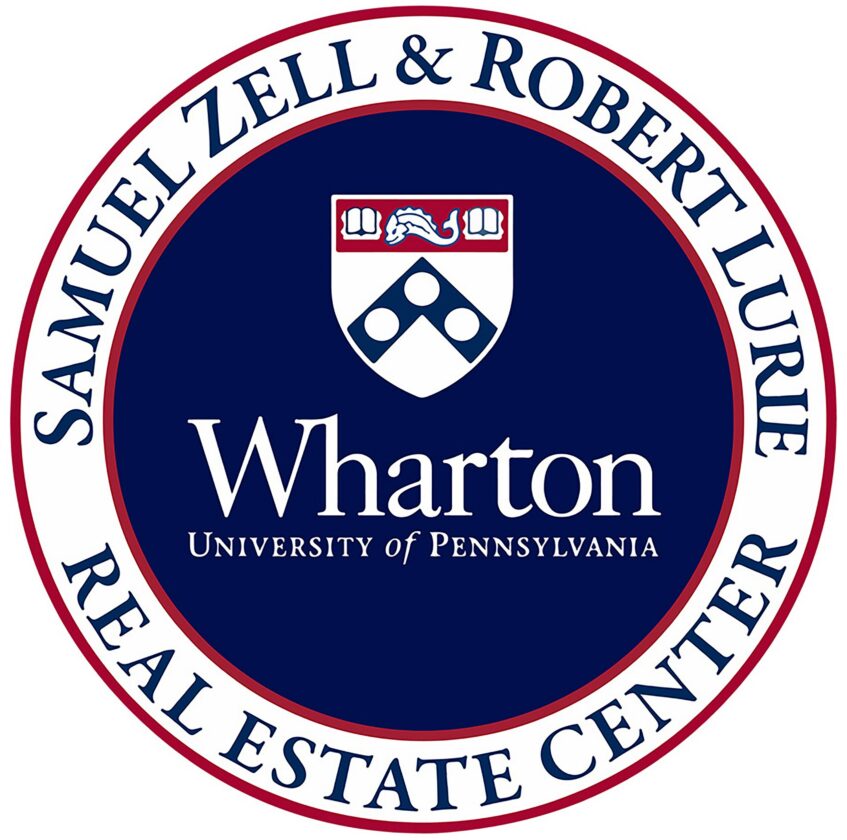 Zell/Lurie Real Estate Center 2021 Spring Members' Meeting
Held as a Zoom Webinar
April 29 – 30, 2021
The Spring 2021 Members' Meeting began Thursday evening, April 29, with a Fireside Chat with Sal Khan, Founder & CEO of the Khan Academy. The opening presentation was moderated by Asuka Nakahara, Associate Director, Zell/Lurie Real Estate Center at the Wharton School.
Nakahara began the evening by asking Khan to describe his mission and his story.
"The mission of the Khan Academy is to provide free, world-class education for anyone, anywhere," said Khan. The first Khan Academy was started around 2003 when he wanted to help his cousins understand math. The videos and software he developed for their use were shared on YouTube, and as its popularity grew, he realized he had inadvertently established a new way for individuals to learn. By 2009, between 50,000-100,000 people were using his programming.
"I took the plunge and set up the academy as a nonprofit and hoped to be able to fund it," he said. "It was delusional optimism — I jumped in with both feet, and it was a hard year, but we grew steadily."
After his first big donation, he learned that Bill Gates was using the software with his children. Gates provided "the first real funding" through the Gates Foundation. The academy now has about 120 million users — students come on their own as well as with established classes, and the academy provides the official practice programming for the SAT and other standardized testing services.
"There is a long way to go," he added. "Connecting learning to real opportunity is the goal."
"You've been doing distance learning all along, which is new to us," said Nakahara. "Did COVID-19 impact you or did you stay the course? Did volume increase?"
Khan replied that their learning minutes tripled. "As schools closed down, we looked around and realized it was our time. The Khan Academy has 50 efficacy studies behind it to show how it's moved the dial for kids.
"Learning shouldn't be bound by time and space and people have started to ask the right questions and follow a more effective approach: How do we keep our kids engaged, learning from each other, using breakout sessions, and the Socratic Method?"
The Academy put out extra resources for teachers and parents to support their efforts in 2020 and he says he has doubled down on overall efforts.
"[Learning] should be competency-based and experiential. It doesn't matter how long you sit in the chair," he said. "It matters if you learned or not."
Nakahara wondered how the Khan Academy approach would translate to a major university, like Penn and the Wharton school.
Khan suggested that examining goals and designing the tools needed to achieve them is the first step. Understanding that humans need connection, but that a lot of learning can happen asynchronously, is crucial to the educational system — at any age. "When we're together, the important thing is learning from each other, interacting, connecting. The mistake at the college level, especially, is that students often sit in huge lecture halls, passive, taking notes. They might as well be watching a video," he said.
He added that it's possible to build connections in person, then leverage the virtual approach to keep touchpoints going. Khan also feels that it's necessary to re-examine the number of years assigned to earn a bachelor's degree, a business degree, and others, as they are somewhat arbitrary.
Nakahara asked Khan how he thinks real estate might change because of the pandemic.
Khan believes that change was coming across various fields even before COVID-19 hit — automated driving, delivery, the ability to buy anything online — "Much of our team was already working remotely, and I would guess less than 20 percent of our team will return to the office."
He predicted that a shift will occur and offices of the future will be places that attract people to converge and make connections, rather than sit in a "sea of cubicles."
In answer to Nakahara's question about where he sees education in 20 years, Khan said that we may be able to take for granted so many things we can only begin to conceive of now: Learn from anywhere; access and connect with community from anywhere; watch as the cost of education drops dramatically.
"Place-based learning is powerful, but it's a spectrum between that and virtual and is going on throughout your life. You can learn anything you need to learn and prove what you know in a competency-based way," he said. "Those credentials will give you access to jobs. The obsession with a four-year degree will disappear and other pathways will be just as strong.
"Hopefully, we will look back at today's worries and realize that they were unfounded."
* * *
The next morning, Matthew J. Lustig, Chairman of Investment Banking, North America; Head of Real Estate & Lodging, Lazard; Chair, Advisory Board, Zell/Lurie Real Estate Center at the Wharton School, opened the meeting by acknowledging that, after three members' meetings held via Zoom, prospects are good that "next time, we meet each other face-to-face." He thanked the Zell/Lurie Center for the privilege of serving as chairman and passed the post to Ron Kravit, who will take over as chair.
Joe Gyourko, Nancy A. Nasher and David J. Haemisegger Director, Zell/Lurie Real Estate Center at the Wharton School, thanked Lustig for his service and dedication to the Center and acknowledged Asuka Nakahara for winning the Provost's Award for Teaching Excellence, "one of the university's great teaching awards."
He then opened the day as moderator of the first event: A Conversation with Jon Gray, President & Chief Operating Officer, Blackstone.
Gyourko introduced Jon Gray as Blackstone's former Head of Real Estate, current COO, and 1992 Wharton graduate, "who also has a bachelor's degree in English."
"Welcome back, Jon. Talk to us about macro issues, if you would. Comment on economic growth, domestic and global: how do you see growth, broadly defined? What do you think drives it? And of course, the issues everyone here is interested in — interest rates and inflation."
Gray talked about the fact that COVID-19 has "almost stopped economic activity. It certainly has slowed it, and we're at a moment where the economic dam is about to burst."
The powerful vaccines are chipping away at the spread of the virus; consumers have saved more than $2 trillion; the fiscal stimulus has added money; and everyone has cabin fever. "As the pandemic lifts, we will see a surge. We're seeing that in our portfolio already," he said, adding that March showed the highest volume in some of his businesses, although some prices — on lumber, steel, used cars and homes — are rising.
"I'm cautious. As an investor, buy things that can grow, even as there will be a rise in rates and inflation," he advised.
Gyourko mentioned a recent article about Blackstone in the Wall Street Journal that referenced the company's "thematic investing."
"How do you place your mark," he asked? "Where do you put your money?"
Gray then talked about the ways in which Blackstone looks for megatrends and big thematic changes in the world, and mentioned three:
"The world is moving online, and we're seeing the digitation of everything," he said, adding that Blackstone looks for online businesses or one derivative off.
"Genomics and big data are creating precision medicine and there is an enormous wave of investing coming in life sciences." They are investing in companies that move supplies and do cold storage and businesses that invest in phase three drugs.
The "green revolution" is moving the world from hydrocarbon to wind, water and solar power, offering opportunities to invest.
Gray stressed that his interests are not all about tech. For example, global travel has risen consistently for the last 50 years and will continue, and the population is aging and will continue to do so. Because he believes that "humans want to travel," Blackstone has bought a variety of types of hotels. He believes the recovery in this market will come in waves, but it will grow back.
He believes physical retail will continue to exist, and some will be fine, such as grocery, restaurants and salons, but enclosed malls and others will have challenges. "Many tenants need less space and will need more capital to make that space entertainment-oriented [to attract customers]."
Gyourko asked if anything has changed in how Gray thinks about investment or investment risk? "What about the relationship between the United States and China? Does that political and military realignment affect how you think about things," he asked?
Gray agreed that the global economy is affected by changes happening everywhere and doesn't see the economies of China and the United States separating, although tensions will continue. China will continue to grow, advancing in tech, science and in population, and he cautioned the audience to "be aware of what's happening there." He added that Blackstone would continue to deploy capital in that country.
The men then discussed the differences between the global financial crisis in 2008-09 and the pandemic. Gray said that the financial markets had too much excess that caused crises. "It spilled into the real economy," he said. "Everyone was hurt to varying degrees, and it was a long, slow recovery. Almost all areas of real estate came under pressure."
In housing, including single- and multi-family, in suburban and urban, the market is seeing an increase in rents and home values, partly due to the overlay between savings and low-interest rates. Gray believes that, although people left the cities in the last year, "urban will start to have a good run." They agreed that aging demographics will also cause a continued positive run in senior housing. Other sectors that should see a good recovery include life sciences, studios and office buildings connected to media space, and cities that have strong creative industries and technologies in them. "Deploy more capital wherever you see more economic activity," he said.
He also stressed the importance of ESG — Environmental, Social and Corporate Governance — as an asset class, because "long-term problems have to be addressed." To that end, he is working to reduce carbon emissions within every asset he buys; all boards will be diverse; and they have developed a careers pathway program for college students, especially minorities.
Gyourko wondered how viable the trend toward work-from-home will be three years from now.
Gray said that Blackstone is part of a business that is built on culture and is a "team sport … teams that work together on behalf of our clients. Raising money, underwriting transactions, overseeing investments … all requires a lot of creative process. Zoom is a helpful tool, but not as good as having people in the office." He acknowledged that many companies will choose a flexible, hybrid approach, but at Blackstone, "we have a winning culture and team … you can't do that only through Zoom."
* * *
The next discussion, A Conversation with Greg Davis, Managing Director & Chief Investment Officer, Vanguard, on Investment Markets, was moderated by Maisy Wong, James T. Riady Associate Professor of Real Estate; Assistant Director, Grayken Program in International Real Estate, Zell/Lurie Real Estate Center at the Wharton School.
The conversation began with a discussion of the pace of recovery from the economic aspect of the pandemic. Davis said it is health-based — contingent on the vaccine recovery and roll-out. In the near term, there won't be a substantial rise in interest rates, he predicted, and the global bond fund could return 2% for the next decade, in the longer term.
"Is this a blip or persistent," Wong asked. "How long will inflation be above 3%?" As the economy and full employment come back — which is still a way off — inflation will rise. "Factors will keep inflation contained for a while — demographics and disinflationary trends, for example," he said. Supply chain concerns are evident in certain areas, including homebuilding. "The Fed has tools to keep inflation down and their credibility is being reflected in the marketplace," said Davis.
They discussed the overall confidence in the Fed and reports that the agency will be patient, realizing they may have acted too quickly in 2008-09. Davis believes the stimulus funds will act as a bridge to get the economy growing again, and that there may be a temporary spike in inflation, which the Fed will let run.
The discussion turned to the appeal of growth versus value stocks and the key theme of digitalization. "Amazon has announced record profits," said Wong. "Will this outweigh bond yield effects?" Davis said that they expect that this type of growth in earnings would have to continue at this pace for quite a long time to justify the type of earnings being realized now. "Value stocks relative to growth looks cheap … one sector of the market is cheap relative to another," he replied.
The importance of portfolio diversification across asset classes, understanding risk tolerance and avoiding concentrated risk in any one portion of the market is key to constructing a balanced portfolio, Davis said. In spite of the best-laid plans, anomalies and idiosyncratic risk will always occur, he added, when Wong suggested the market had been a "roller coaster."
The two talked about ETFs and their continued appeal to investors; the fact that money is flowing into money markets although they are yielding nearly zero; and the popularity of target-date funds that do automatic rebalancing and benefit investors.
When Wong asked him about the outlook of the global economy, with the EU and Asia reporting weak numbers, Davis reiterated that the progress being made in the health crisis is being reflected in the growth in various markets there as well as in the U.S.
"Money is being deployed to international as well as U.S. markets through the target date funds that are being heavily used," said Davis. "There is value there in their diversification and from a risk reduction standpoint. Why bet on one market? It's better to have exposure to them all. Diversification is the key."
"You can't predict the future, but you can prepare. Have exposures you're comfortable with and be diversified across a variety of asset classes. And there is no substitute for experience in this industry. Having a team in place that has navigated through different market events helps," he added.
* * *
This conversation was followed by a panel session titled New Economy Real Estate: Opportunities and Challenges moderated by Matthew Lustig.
Panelists were Steve Vondran, Executive Vice President and President, U.S. Tower Division, American Tower Corporation; Will Germain, Senior Investment Officer, Research & Innovation, Ventas; and Katherine Motlagh, Executive Vice President and Chief Financial Officer, CyrusOne.
Lustig began the discussion by asking each panelist to discuss the past year and its impact on their business.
Because of COVID-19, Germain's business fields — life science, healthcare investment, research and innovation — have seen an increase in demand. "The work in this space has to be done within the buildings, and there has been an expansion in sciences and technologies specifically related to infectious diseases," he said, adding that costs have been dropping. Employees continued to work on-site because of the nature of the work.
For Motlagh, whose area encompasses data center facilities and related facilities, the demand for data and cloud services was highlighted in the past year. "The pandemic validated the value of the cloud, as everything has been digitalized," she said. "The more computer power, the more data storage is needed."
Vondran, whose business involves telecommunications infrastructure and the operating of cell phone towers in the United States and abroad, said that cell phones are not a luxury, they are a necessity, and become more so every day. "The increase in their use has driven the demand for 5G and has given customers a mandate to build the next generation of networks, which drives our business," he said.
All three panelists agreed that location is critical for their customers, but other factors drive the locations of their towers, research facilities and data centers, including tax rates, incentives, a path to future growth, and proximity to other research institutions in the case of Germain's laboratories. Developing assets, acquiring land, leasing the appropriate buildings or space, and other traditional real estate fundamentals all apply to create the perfect business model that generates attractive returns for their investors.
Motlagh talked about their 1,000 plus customers, "big names that provide digital services" as well as enterprises of varying sizes that outsource computer power and lease space. "We are in prime locations — digital hubs, transportation hubs — I don't think there is an obsolescence risk. Computing power will only grow."
Germain's development costs are higher than those for traditional office space; whether conversion or redevelopment, the up-front investments are large. Redevelopment and conversion are costly, but it's being done around the country, and he cited the conversion of an old Ford motor plant to a state-of-the-art immunotherapy center near Pittsburgh.
Lustig asked Vondran if there is a chance that cell towers will become obsolete, to which they all laughed.
"No," Vondran replied. "Some of the other options people have mentioned like satellite connections aren't as cost-effective or practical. Towers are here to stay." He said that the proportion of the business is nearly 50/50 between the U.S. and abroad, with the United States at about 55%. "We have been able to grow internationally, in 24 countries, because we have enough customers to allow this," he said.
"What is your advice to our students today," asked Lustig?
The panelists agreed that it is important to choose something to be passionate about—no matter what. "And get broad experience," added Motlagh. "Real estate is a large field. Get experience. Try them all out."
* * *
A Conversation with Sam Zell, Chairman, Equity Group Investments, and Barry Sternlicht, Chairman & Chief Executive Officer, Starwood Capital Group, was moderated by Joe Gyourko and closed out the day.
The conversation began with Gyourko asking the men if the economy is developing and how they see growth in both the short and long-term.
Zell and Sternlicht agreed that the impact of the government's stimulus payments would be big. Savings rates are at an all-time high and there have been few ways to spend the money. Zell sees the next year as being a time for recovery mode.
Sternlicht expressed that stimulus payments should have been made to those in the industries with the most unemployed individuals, including the hospitality sector. He believes that inflation is a measure of various components, including rent, which has been going up. He believes inflation will rise in the next six to eighteen months.
Zell said that embedded inflation is significant right now, and although he agrees with Sternlicht that financial help should have been targeted, he thinks Sternlicht's assessment may be conservative.
The men then discussed the real estate sectors that have been hit hardest. Although various types of retail were impacted, Zell said the sector started with excessive supply.
Gyourko said that the pandemic accelerated trends that were already being seen in retail. And as for hotels?
Sternlicht believes that big cities with international visitors will be most impacted, adding that he expects business travel to remain down 10-25% for a while. Zell predicted that if people continue to work from home, groups will have more in-person gatherings, spawning a new type of travel.
Both men have been working in his office throughout the pandemic and have encouraged their employees to return. Zell believes the current vacancy in the office sector isn't because of the virus but because of an artificial spike in demand caused by shared workspaces.
Sternlicht believes that working from home makes culture-building less possible and lowers productivity. The men discussed productivity, income, artificial shortages of employees and how the pandemic has created a working class that doesn't want to work.
The conversation wrapped up with Zell and Sternlicht's thoughts on the next couple of years. Zell shared his view on how changing work ethics due to the pandemic has challenged society's ethical base, citing discussion of guaranteed income levels as a factor threatening the base that built this country. Sternlicht in turn, cited politicized news as a threat to the country.
The Fall 2021 Members' Meeting will take place, Friday, October 22, at the Inn at Penn. The meeting will follow all applicable health guidelines in place at that time and will be communicated to members.