Fall Members' Meeting · Friday, October 21, 2016
Ryan Simonetti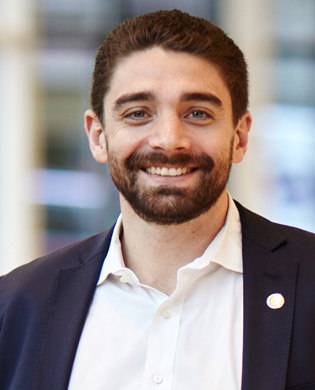 CEO, Co-Founder, Convene
Ryan Simonetti is the Co-Founder and CEO of Convene, commercial real estate's first workplace-as-a-service platform. His unique expertise in real estate acquisitions, development, and structured finance has helped catapult Convene to become a pioneer in the industry.
Ryan has recently been recognized for his transformative achievements in Inc. Magazine's "30 Under 30", a list of America's Most Promising Young Entrepreneurs and Meetings and Convention's "22 Millennials to Watch". He's also been a finalist in Ernst & Young's Entrepreneur of the Year® 2013 New York, was named "Top Entrepreneur" for 2013 by Crain's New York, and was a "Top 50 Event Industry Innovator" according to BizBash.
In 2009, Ryan co-founded Convene (www.convene.com) with his business partner and long-time friend Christopher Kelly, with the intention of disrupting the commercial real estate industry and transforming the workplace experience by capitalizing on converging trends in real estate, technology, and hospitality. Their vision of infusing hotel-style services into commercial office buildings proved to be successful as Convene quickly became the foremost provider of amenities to institutional landlords and their enterprise tenants. Supported by a client roster that includes over 66% of the Fortune 100, Forbes Magazine named Convene one of "America's 100 Most Promising Companies" and Crain's Business listed it as "The #1 fastest growing company in New York" in 2014. The company currently has 12 meeting venues serving New York, Philadelphia and Washington DC, Metro with immediate plans to expand into Boston, Chicago and other gateway cities.
Previously, Ryan served as a vice president at Gramercy Capital Corp. where he was in charge of the workout and restructuring of a billion dollar loan portfolio including $600 million of hospitality related real estate investments. Before joining Gramercy, he was a real estate banking analyst within the global real estate group at Lehman Brothers, where he focused on the structuring and securitization of commercial mortgage-backed securities.
A graduate of Villanova University, Ryan is an active supporter of the Urban Land Institute, CoreNet Global, IACC and was selected to be a member of New York Senator Kirsten Gillibrand's Small Business Working Group. In addition, he is an active venture investor and advisor to several start-up technology companies and their founders. Outside of work, he enjoys golfing, fishing, reading and thinking of the next 'big idea.' Mr. Simonetti and his wife Lisa live in New York with their son Riley.
You can follow Ryan on Twitter @rwsimonetti.