Fall Members' Meeting 2019 · Friday, October 25, 2019
Diane Hoskins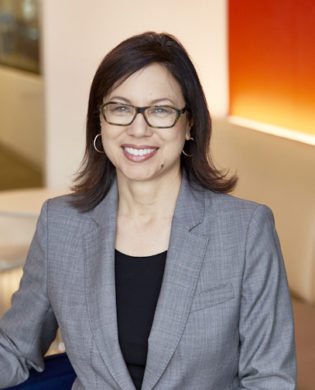 Co-Chief Executive Officer, Gensler
Diane Hoskins is one of two Gensler Co-CEOs. As both an MIT-trained architect and holding an MBA from the Andersen School at UCLA, Diane's career has spanned Architecture, Design, Real Estate, and Business. Diane has broad responsibility in running the firm's day-to-day operations, which span 6,000+ employees networked across 48 offices in the Americas, Europe, Asia and the Middle East. She is Chair of Gensler's Board of Directors.
In addition to her responsibilities to the firm, Diane has initiated state-of-the-art management strategies in service of the firm's 3,500 active clients in more than 120 countries. Diane focuses on innovative design strategies that create a positive impact for client performance; she has championed the firm's reach beyond architectural services to provide a broad comprehensive platform of design and strategic services to clients around the globe.
A true innovator, Diane founded the Gensler Research Institute to fuel new advances in the field, using exploration and transdisciplinary collaboration to place design in the context of larger business and social issues. The knowledge and insights discovered through Gensler's research have created new and unexpected solutions to the pressing issues faced by Gensler's clients and communities, helping the firm further its mission of creating a better world through the power of design.
Gensler's Workplace Survey, published in 2005, 2006, 2008, 2013, 2016, and 2019 is the Research lnstitute's signature study, and it has provided insights that have received extensive public interest and industry acclaim. As the spokesperson for the Workplace Survey, Diane has conducted innumerable media interviews helping to educate the public on the importance of workspace design, including outlets such as the Wall Street Journal, Forbes and Bloomberg TV.
Among the Research lnstitute's most recent and groundbreaking IP, Gensler's Experience Index stands out as a first-of-its kind study proving that design is the key to creating successful retail experiences that improve sales, enhance shopping experiences, build consumer loyalty and engage employees in today's dynamic and evolving workplace.
As an outspoken advocate for sustainable design and her industry's responsibility in global efforts to curb climate change, Diane personally leads the development of Gensler's Impact by Design research, an annual sustainability report dedicated to understanding the environmental impact of Gensler projects around the globe. She has featured prominently as a speaker on this topic at international level events such as the International Women's Forum's World Cornerstone Conference, the Bloomberg Global Business Forum and Climate Week NYC.
Diane is currently serving as a member of the World Economic Forum's Global Futures Council on Cities and Urbanization, as well as the CEO Initiative by Fortune and Time.
Community involvement:
Diane is active in the community, and has been honored by the Boys & Girls Club for her work promoting expanded opportunities for young people. She has also been recognized numerous times as a top woman in real estate, is a member of the Pentagon's Hall of Heroes for her work with the Department of Defense and sits on multiple boards including the Greater Washington Board of Trade, and UCLA's Board of Visitors.
Diane was inducted as a member of the Washington Business Hall of Fame in November 2016. She is a Fellow of the American Institute of Architects, a member of the International Women's Forum of Washington, D.C., the Economic Club of Washington, D.C., and the M.I.T. Alumni Association. She is a former Corporate Board Member of Washington Gas.