Fall Members' Meeting 2019 · Friday, October 25, 2019
Scott Stephenson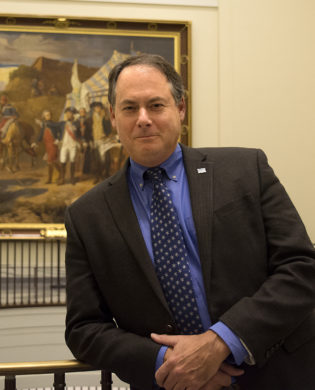 President and CEO, Museum of the American Revolution
Pittsburgh, Pennsylvania native Scott Stephenson holds a B.A. from Juniata College and an M.A. and Ph.D. in American History from the University of Virginia. His broad public history experience spans nearly three decades and has been marked by public and professional acclaim for his creative and innovative approaches to engaging audiences. He has developed and collaborated on exhibits, films, and interpretive programs for numerous historical sites and organizations including Colonial Williamsburg, the Smithsonian, the Canadian War Museum, the National Park Service, George Washington's Mount Vernon, the Heinz History Center, and the Museum of the Cherokee Indian.
From 2007-2018, Stephenson led the development of the Museum of the American Revolution's award-winning exhibitions, multimedia experiences and educational programming, as well as overseeing the care and expansion of its rich collection of art and artifacts, first as Director of Collections and Interpretation and then as Vice President of Collections, Exhibitions, and Programming. He served as a key member of the senior leadership team that raised $173 million to build and open the Museum, surpassing the original capital campaign goal of $150 million. The Museum opened in April 2017 to national and international acclaim, including rave reviews in the New York Times, Washington Post, and New York Review of Books. The core exhibition received many prestigious awards including the AAM 2018 Excellence in Exhibition Award for Special Achievement, AASLH Award of Merit, and the PA Museums Institutional Award.
In November 2018, Stephenson was named President and CEO of the Museum.
In This Section
Also See