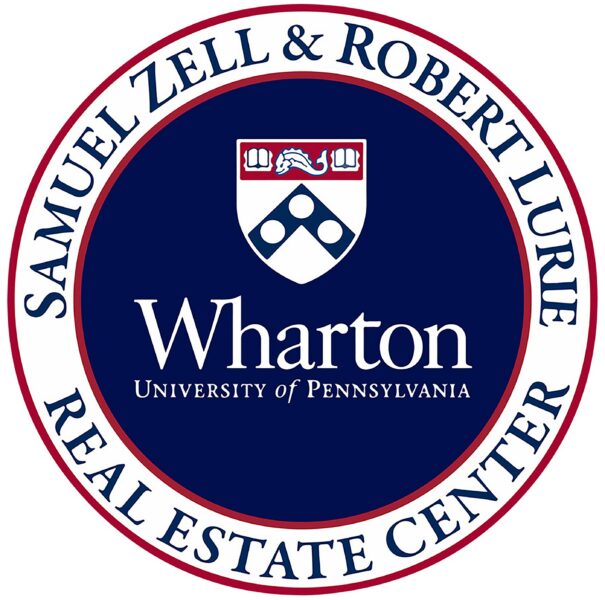 Ronald J. Kravit, Senior Managing Director, Cerberus Capital Management; Chair, Advisory Board, Zell/Lurie Real Estate Center at the Wharton School, welcomed members and guests to the Fall 2022 Zell/Lurie Members' Meeting on November 11.
An overview of the panels and programming and updates about the Center was given by Joe Gyourko, Martin Bucksbaum Professor of Real Estate, Finance, Business Economics & Public Policy; Nancy A. Nasher and David Haemisegger Director of the Zell/Lurie Real Estate Center at the Wharton School.
Gyourko welcomed everyone. He thanked Lew and Ina Heafitz W'58 for their generous gift permanently endowing the Center's Fall Meetings. He encouraged members to make referrals so the Center can grow its membership by about 25 while adding diversity—not only in ethnicity, race, and gender—but also by the roles they hold within the industry. He introduced new staff members, Veronica Aplenc and Steph Shapiro, and outlined the office restructuring. He then introduced senior fellows, Alan Feldman and Ritson Ferguson, who have agreed to work with the Center on the strategic planning initiative to determine the right programming mix going forward.
Maisy Wong, James T. Riady Associate Professor of Real Estate; Assistant Director, Zell/Lurie Real Estate Center, provided an overview of the Center's activities. She outlined how the mission is achieved, program offerings, support for students, and student enrollment increases.
The day's first panel, The Possibilities and Challenges in the Residential Sector, was moderated by Alan Feldman, Senior Fellow, Zell/Lurie Real Estate Center at the Wharton School. Panelists included Billy Butcher, Partner, Real Estate, KKR; Jeffrey W. Adler, Vice President, Yardi Matrix; and Steven DeFrancis, Chief Executive Officer, Cortland.
Feldman opened the discussion by looking back one year to when apartments looked favorable, cap rates were compressed, and the recommendation was to buy apartment REITs. "Now REIT stocks are down and the world has changed dramatically. What happens next? How do we take advantage of that," he asked.
Jeffrey Adler described trends in the residential markets in the spring of 2021, as people moved around throughout the pandemic. By April of 2021, many had decided to purchase homes. "Everywhere in the United States, rents went up about 20%, depending on the location, and some have gone up by 50%," he said. "Rents are driven by supply and demand. Period. We have a long-term supply shortage, and the demand side will continue to be high."
Steven DeFrancis spoke about some markets of concern, including the smaller markets which have decelerated the most and the fastest, while the major markets have seen rents top off over the summer and then decelerate slightly. He also predicted that although the market will soften, developers will finish any projects they have begun.
Feldman had Billy Butcher discuss the thesis behind KKR's recent purchase of Presidential City Apartments in Philadelphia for more than $350 million. Beyond that deal, Butcher thought that a key question was how to put capital together today and how to make it work. He thought that it was not reasonable to set the same standard across all markets.
Feldman asked DeFrancis about timing for doing business given that the cost of capital has shot up. Because there is little visibility about where the world is going, DeFrancis stated they are on the sidelines right now, although he noted that there is a lot of equity in the system and multifamily still makes sense. He also thought that many were waiting to see if real distress develops in the marketplace. A lack of clear visibility into rent growth and debt costs was slowing the market.
Adler agreed with the wait-and-see approach. He and Feldman discussed possibilities in student housing, where there is a need, and which is accelerating relative to multifamily. The currently small asset sector of single-family rentals in build-to-rent communities is growing rapidly too. Adler thought that there was a real demographic need for this type of product. Adler added that manufactured housing is market that is doing quite well thanks to its affordability.
DeFrancis stressed that Covid forced people to do things differently. He sees plenty of good ideas in multifamily, but a lack of technology to implement many of them. The panel closed with a discussion of how technology and big data can be used to determine migration patterns. These valuable tools can in turn help with forecasting, pricing, property management, uncovering trends, and leveraging data across investments.
The Ina and Lew Heafitz Keynote Speaker was Gad Allon, theJeffrey A. Keswin Professor and Professor of Operations, Information and Decisions; Director, Jerome Fisher Management and Technology Program, the Wharton School. His engaging talk was titled, was What We Can Expect Regarding Supply Chains Going Forward: Keeping your Friendshoring Close and your Offshoring Closer.
Gad Allon opened his presentation by noting that most people weren't aware of supply chains until shortages appeared. The phrase "supply chain" came into use in the late 1990s, about the time China became a manufacturing hub. He said that Covid was just the beginning of what we're going to see in the next few years, and the climate and geopolitics will continue to impact all of us.
"Covid provided the perfect storm," Allon stated. "Some shortages were not surprising, but why are some things still so hard to find?" He then described ways to understand supply chains: residential versus commercial, and cost-efficient versus responsive supply chains. Professor Allon noted that it is very challenging to build a supply change that is both cost efficient and flexibly response to shifts in demand.
Allon noted the challenges that we can expect to see in the future. For example, "the last mile of delivery is what changed; Amazon doubled their number of employees during Covid, which had created a shortage of employees throughout the supply chain."
Allon pointed to the connection between inventory and recessions. Inventory has always been a lagging indicator of recessions, but a strong indicator of where we are. As interest rates climb, generally, inventory goes down. There are firms that are stuck with a lot of inventory, just when interest rates are rising.
Allon also commented on the concept of friend-shoring. Allon said Janet Yellen coined this phrase to describe the partnerships that are formed to strengthen economic resilience, while sustaining the dynamism and productivity growth that comes with economic integration. Allon believes this type of partnership involves so many suppliers that it distorts the visibility of companies' supply chains. He noted downsides, including negative effects on developing countries, local workers, and higher correlation among risks. According to Allon, correlated risks include the geopolitical, healthcare (including pandemics), and cybersecurity (the more connected the world is, the easier it is to hack in).
Allon closed by looking forward. Leadership in the supply chain needs to develop flexibility and agility. Tradeoffs to balance include:
Cost efficiency vs. responsiveness
Cost efficiency vs. resilience
Short-term ROI vs. long-term ROI
Local vs. global—it's too hard to build a fully localized supply chain
The second panel was Wharton Faculty on the Economy, moderated by Maisy Wong. Panelists were Joe Gyourko, Peter Linneman, Albert Sussman Professor Emeritus of Real Estate, the Wharton School; and Joao F. Gomes, Howard Butcher III Professor of Finance; Senior Vice Dean of Research, Centers, and Academic Initiatives, the Wharton School.
Wong opened the conversation by asking Gomes for his thoughts on what is happening now and where we are headed. Gomes noted the challenges this year, in the face of multiple risk factors. One such factor was volatility, with markets are substantially one day and down the next. The inflation shock is another. While many are worried about a recession in the near term, Gomes was a bit more optimistic noting that there was a reasonable change that growth could slow without the country dipping into a formal recession.
Gyourko followed with a more pessimistic perspective. He thought there would be a recession sometime in 2023. He was also worried about the potential for a globally synchronous downturn. The leading wave in the U.S. is in the single family homebuilding sector, which is very sensitive to interest rates.
Linneman spoke next and was much more optimistic. He cautioned against focusing too much on Wall Street and argued for a more local focus on Main Street. Linneman pointed to job growth, low unemployment, industrial output growing by 3.7% this year, and tremendous rebounds in travel and tourism.
Wong agreed that there are some bright spots on Main Street but added that the situation on Wall Street – where a lot of financing for Main Street is –doesn't look ideal.
The panelists then discussed the Fed's recent policies and actions. Gomes stated the Fed took a misstep. There was general agreement that the Fed has not recognized soon enough that inflation had begun to rise. What the Fed's newfound commitment to lowering inflation implies for growth going forward remains uncertain, as our panelists had differing views on how this would play out in the real estate and broader asset markets.
In the Q&A, an audience member asked the panel about opportunities in this environment. Linneman suggested that equity could be used on good projects, while Gyourko pointed to lending opportunities through recapitalization. Gomes agreed with both but remained more uncertain about the next six months. There was abroad agreement that we can expect a recession in Europe and a further slowdown in China.
The panelists also agreed that the Fed will slow the pace of interest rate increases as everyone waits to see if inflation numbers improves and wages increases slow down.
The last panel of the day, Work from Home and Its Impacts on Work and Real Estate was moderated by Asuka Nakahara, Associate Director, Zell/Lurie Real Estate Center at the Wharton School. Panelists were Robert Perry, President of the Americas Real Estate Division and Head of Strategic Partners U.S., CBRE; Suzanne Lunday, Head of Employee Experience and HR Strategic Support, Vanguard; Daniela Gastner, Managing Director, Real Estate, the University of Pennsylvania; and Phil Kirschner, Senior Expert, McKinsey & Company.
Nakahara started the panel by asking what is the future of work.
Suzanne Lunday opened by describing varied options that Vanguard has offered. They range from hybrid work, where employees are in the office three days a week to those who work every day in the office and those who can work from anywhere at any time. Lunday noted that mentoring and coaching are richer in person, but that people want more flexibility.
Phil Kirschner noted that people have always valued flexibility. He thought it was important for employers to take what he referred to as an "AND, not an OR, approach". His recommendation was not to start with the mindset of just getting employees back into the office. Kirschner thought that the claim that a business cannot build a culture if its people are not face-to-face was not valid. He noted that McKinsey has always had a model based on 'being together somewhere else' and had built a distinct culture in that environment.
Robert Perry stated that the market is bifurcated, and companies will pay more if they can get more from employees. Daniela Gastner noted the importance of having a highly managed office space. Lunday agreed, and Perry added that these approaches require purposeful, well-executed, good decision-making by managers.
In response to Nakahara's question, "How has the pandemic changed the war for talent in your organization?", the panelists had a number of responses. For example, Kirschner thought that the 'great attrition' spoken about so often resulted from people wanting more flexibility and simply being more willing to switch industries, not just jobs. Lunday described the labor market as the tightest her company has ever seen. She also thought employee mobility was at an all-time high.
All the panelists agreed that they feel uncertain given the lack of liquidity in the marketplace—at a time when there is a real need for capital investments to bring in employees. However, they saw positive signs for the future in the rise in repurposed office space and amenitization.