Grayken Program in International Real Estate 2020 · Wednesday, December 2, 2020
Rushabh Desai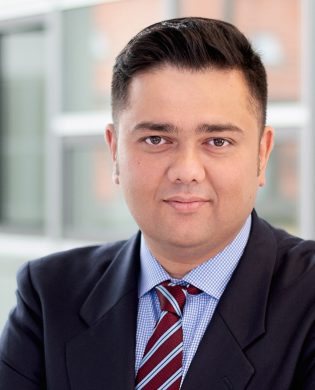 Chief Executive Officer, Allianz Real Estate Asia Pacific
Rushabh Desai heads the Asia-Pacific region at Allianz Real Estate. He is a voting member of the Allianz Real Estate Global Executive Committee, as well as the Allianz Real Estate Global Equity Investment Committee. Under his leadership Allianz Real Estate has established a USD 6+ billion portfolio in the region and most recently raised its maiden 3rd party investment platform.
For Allianz Real Estate the main areas of focus include direct and indirect private real estate equity investments, as well as senior lending across key markets such as Japan, Australia, Singapore, South Korea, Hong Kong, China, India and Southeast Asia.
Rushabh joined Allianz Real Estate in 2016 bringing with him 13 years of diverse global experience. Prior to joining the company, he held different positions at GE Capital Real Estate Asia-Pacific, where he increased leadership and management responsibilities. During his tenure, Rushabh assumed roles such as Head of Strategy & Planning, Chief Financial Officer and Head of Business Development, gaining experience across a range of equity and debt assets and across all major markets in the region.
Rushabh is ULI Global Governing Trustee. He graduated from St. Xavier's College in Kolkata, India and completed an MBA from Narsee Monjee Institute of Management Studies in Mumbai, India. 
In This Section
Also See