Fall Members' Meeting 2020 · Thursday, October 22 – Friday, October 23, 2020
Marilyn Jordan Taylor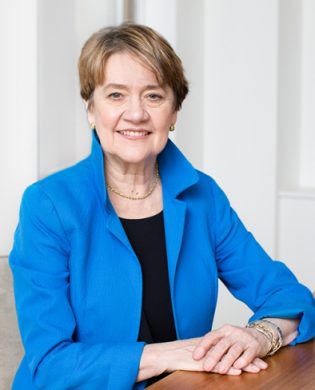 Professor of Architecture and Urban Design, Former Dean; Stuart Weitzman School of Design, The University of Pennsylvania
Marilyn Jordan Taylor is Professor of Architecture and Urban Design. She had a distinguished tenure as Dean of the University of Pennsylvania Stuart Weitzman School of Design from 2008 - 2016, having been a much admired practitioner. She is recognized worldwide as a thought leader in urban design, as well as a woman pioneer in the fields of architecture, planning, and construction. Her global stature is complemented by her down-to-earth demeanor and proven ability to interact easily with constituencies across communities, government, industry, and academia, both locally and internationally. She is a leader who exudes not only intellectual breadth, but also deep enthusiasm and compassion in her dedication to enhancing the vitality of urban communities through design.
Marilyn Taylor was Partner in Charge of the Urban Design and Planning Practice at Skidmore Owings & Merrill LLP and the first woman to serve as Chairman of Skidmore Owings & Merrill, is internationally known for her distinguished and passionate involvement in the design of large-scale urban projects and civic initiatives. Over a 35-year career with Skidmore Owings & Merrill, she led many of the firm's largest and most complex projects around the world. She was also both the first architect and the first woman to serve as chairman (2005-07) of the Urban Land Institute, a non-profit research and educational institution, where she championed a renewed focus on cities, sustainable communities, and infrastructure investment.
An expert in using public space and infrastructure to shape urban districts and civic places, Marilyn Taylor led Skidmore Owings & Merrill's Urban Design & Planning practice in such projects as Columbia University's Manhattanville Master Plan, the East River Waterfront Master Plan, the reclamation of Con Ed's East River sites for mixed-use development, the new research building at Memorial Sloan-Kettering, and the new urban campus for John Jay College. She also founded and led Skidmore Owings & Merrill's Airports and Transportation practice, working on U.S. airport projects such as Terminal 4 at JFK, Continental Airlines at Newark, and the expansion of Washington, DC's Dulles International Airport. Her international airport projects included SkyCity at Hong Kong International Airport and the Ben Gurion Airport in Tel Aviv, as well as the new Terminal 3 at Singapore's Changi Airport.
Her transit work has been equally diverse, ranging from the award-winning Changi Airport Station in Singapore to the Transit-Friendly Land Use Handbook for New Jersey Transit. Her train projects include all 15 intercity rail stations from Washington, DC to Boston. She also led Skidmore Owings & Merrill's planning and transportation design for reuse of New York's Farley Post Office as the Moynihan Station. Taylor is distinguished as well for her civic and professional leadership, having served as a member of The Partnership for New York City, president of the American Institute of Architects (NYC Chapter), visiting professor at the Harvard Graduate School of Design, and as one of the founding members of the New York New Visions Design and Planning Coalition, the design, planning, and real estate communities' unprecedented response to the events of 9/11. She also serves on the Advisory Board of the Penn Institute for Urban Research. Taylor is an Iowa native and a 1969 graduate of Radcliffe College.
She attended the MIT Graduate School of Architecture (1969-70), and received her M. Arch in 1974 from the University of California, Berkeley. She joined Skidmore Owings & Merrill in 1971, in the firm's Washington office, and was elected Partner in 1985. She received a prestigious David Rockefeller Fellowship from the Partnership for New York City in 1995.