The Helfand/Bluhm Career Support Fellowship*
*Made possible by the David Helfand, PAR '20 and Leslie Bluhm, PAR '20 Zell/Lurie Real Estate Fund.
GUIDELINES and FAQ
The David Helfand, PAR '20 and Leslie Bluhm, PAR '20 Zell/Lurie Real Estate Fund was created in 2019 from a generous gift by David Helfand and Leslie Bluhm. With this gift the Zell/Lurie Real Estate Center created the Helfand/Bluhm Career Support Fellowship Program. The fellowship program distributes individual grants to students with financial need to help defray the cost of qualified expenses for real estate career search activities including travel, networking, interviews, conferences, and other related concerns.
This fellowship works on a post-travel reimbursement basis. Therefore, do not be concerned if the application and/or decision date is after your chosen dates of travel.
Students can only be reimbursed for travel taken during the current academic year.
Funding will not be granted for any group trip that conflicts with classes. Funding will not be granted for any trip that fails to obtain necessary school approvals.
Fellowships are awarded according to the following eligibility criteria (subject to change at the discretion of the Committee):
Who is eligible for a Helfand/Bluhm Career Support Fellowship?
You are eligible if you:
1. Have submitted the Financial Need Acknowledge Form and affirmed a financial need that if not met would prohibit full participation in supported career searches.
2. Are enrolled full-time as a Penn/Wharton student and are a member of one of the clubs supported by Zell/Lurie:
Wharton MBA Real Estate Club
Wharton Undergraduate Real Estate Club
Weitzman School of Design Real Estate Club
Penn Law School Real Estate Club
3. Are traveling for real estate related recruiting purposes, such as:
Company visits
Industry networking
Interviews
Conferences
Other related activities
4. Have filled out and submitted the Helfand/Bluhm post-travel survey. You can find a link to this survey in your award email.
What is the most amount of money I can receive from the Helfand/Bluhm fellowship?
Below are maximum reimbursable amounts by region. This is the maximum award you can receive per trip.
You can only submit one application per trip. Please do not combine expenses from multiple trips into one application. If you are making reoccurring trips to one destination we still require each trip to be reimbursed separately.
Southeast (including Atlanta, Charlotte, Charleston, Miami, etc.) – $750
Southwest (including Dallas, Houston, Austin, Phoenix, Denver, Nashville, etc.) – $600
Midwest (including Chicago, Minneapolis, St. Louis, Louisville, etc.) – $850
West (including San Francisco, Los Angeles, Seattle, Portland, etc.) – $1250
Northeast (including Boston, upstate NY, Providence, etc.) – $500
New York & DC – $200
International (Asia) – $2000
International (Europe) – $1500
International (Other) – $1500
What are eligible expenses?
Eligible expenses include transportation, lodging, conference registration, membership fees (if required for attendance), and food. Alcohol is not an eligible expense.
Students should make every attempt to mitigate costs by planning their travel early, requesting student discounts, comparing websites for flight costs, staying with friends when possible and taking public transportation in cities with a transit system.
The Committee cannot reimburse travel expenses to your hometown during university breaks.
The Committee cannot reimburse students for purchases made with gift cards (including vouchers, gift certificates, flights paid for by points or miles, or other payment means considered by the University to be non-reimbursable). If you receive separate funding or a subsidy for your travel you must notify the Zell/Lurie Administrative Coordinator before you request reimbursement.
All eligible expenses must have appropriate corresponding receipts. Receipts for meals must be itemized. Credit card statements do not count as receipts. Tickets that do not include a ticket price do not count as receipts. You may submit digital receipts or photos/scans of physical receipts.
What is the application process?
Complete both the Financial Need Acknowledgment Form and an electronic application.
What is the review process like?
All completed applications received will be reviewed on a rolling basis. The deadline to submit materials for a Helfand/Bluhm Fellowship for this academic year is April 26, 2023. Applications are reviewed by the Helfand/Bluhm Fellowship Committee. No application will be reviewed without a completed Financial Need Acknowledgment Form. All applicants will be notified of the decision on their application via email. The review process may take some time, so please be patient. The application will NOT be reviewed if it does not meet eligibility criteria.
What does the reimbursement process look like?
After your application has been approved you will receive an invitation to register as a payee on Penn Marketplace from the University of Pennsylvania. This email will have the subject line: 'UPENN's Individual Registration Invitation for University of Pennsylvania.' This email is not generated by the Zell/Lurie Real Estate Center. If you cannot locate the email or for any questions, please contact SupplierSupport@upenn.edu or call 215-898-7216.
Please see an invitation email example below: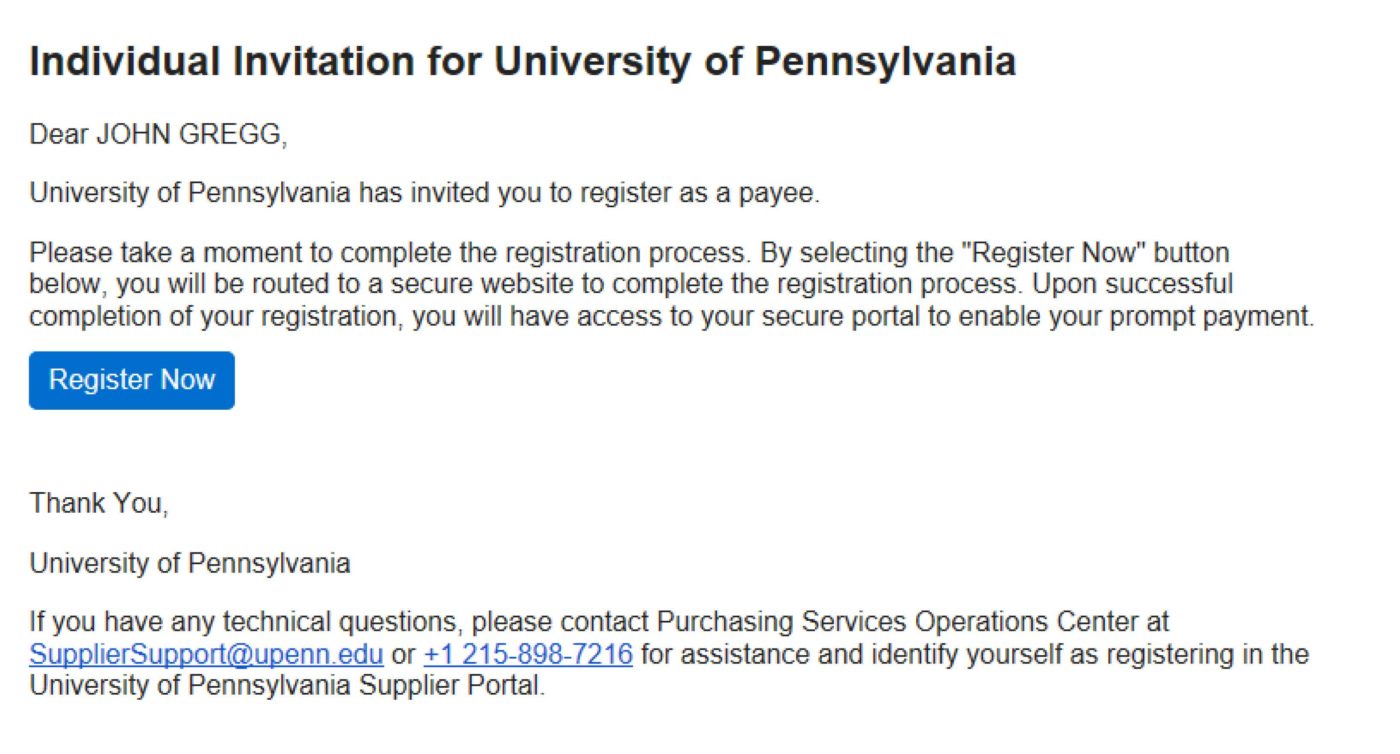 Once you have located the invitation email follow the link to register as a "person providing goods or services." Please note that Penn Marketplace was created for vendors/companies and the language is not tailored to students.
Please refer to the Penn Marketplace Individual Registration Guide for a step-by-step guide on completing and submitting your registration.
Once you have registered to Penn Marketplace, and your travel is completed, you will have two weeks to file a request for reimbursement. To file a request you must complete a post-travel survey and then email the following documents to the Zell/Lurie Administrative Coordinator, Claire Harte, at charte@wharton.upenn.edu:
A brief travel itinerary and list of the total expenses incurred.
Copies of receipts to match your total expenses.
After all proper documentation has been provided to Zell/Lurie they will submit a reimbursement request through Penn Marketplace. Please allow a two weeks for your reimbursement request to move through the approval process and for payment to be released.
Will I be taxed on my reimbursement?
Each award is taxed according to federal or international law.
If you are US citizen or resident alien, all prizes in the amount of $600 or greater within a calendar year must be reported by the University to the IRS on Form 1099-MISC. It is the responsibility of all award recipients, regardless of the award amount, to report the taxable award received to the IRS on their personal income tax returns.
If you are a nonresident alien, the University is required to withhold 30% tax on the full amount of the prize unless the individual is exempt from taxation under a tax treaty. This information is reported to the IRS on Form 1042-S.
Please contact the Penn Tax Office with questions regarding withholding and year-end tax documents. The Zell/Lurie Center staff are not authorized to provide tax advice.
My reimbursement was approved; when can I expect payment?
Deposits will be made electronically into your bank account, normally within 10 working days from approval. If you did not enroll in Direct Deposit your reimbursement will be mailed to the address you listed on your Penn Marketplace registration. Note reimbursements are not handled by Payroll. Do not contact Payroll regarding your reimbursement request or payment.
Who can I contact regarding my reimbursement request?
You can contact the Zell/Lurie Administrative Coordinator, Claire Harte, at charte@wharton.upenn.edu with questions, comments, or concerns regarding your reimbursement. All communication must be made through email.
What happens if I do not submit my reimbursement request within two weeks of my travel?
If you do not submit your request within two weeks you may forfeit your reimbursement.
What is my Employee Identification Number (EIN); referred to on the Penn Marketplace registration form?
Put your Social Security number in place of an EIN number on your registration form. You can find your social security number on your social security card.
See an example of a social security card below: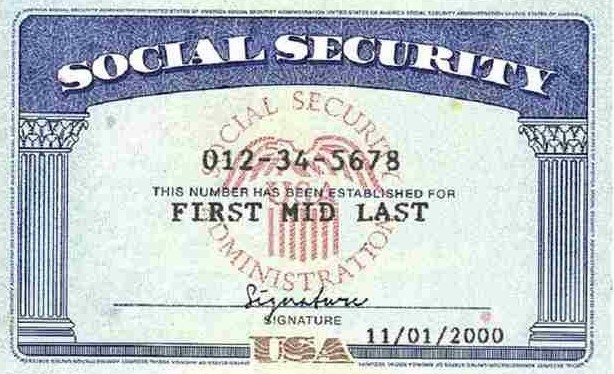 If you are an international student, and you have been authorized to work in the United States, you would have received your social security card in the mail 2-6 weeks after you submitted your SSN Application.
If you are an international student, and you have not been authorized to work in the United States, you will not have a social security number. You will need to contact the International Student and Scholar Services Office (ISSS). They will help you apply for a International Tax Identification Number (ITIN) which can be used in place of a social security number.
For any questions regarding your social security number or international tax identification number, please contact ISSS at (215) 898-4661 or by email (isss@pobox.upenn.edu).