News
Winter 2017 Newsletter: Discovering New Frontiers of Thought
Selected highlights from our seasonal newsletter. Subscribe now to have the next newsletter sent directly to your inbox.
Annual Fall Members' Meeting
The annual Fall Members' Meeting featured a talk by Philip E. Tetlock, Ph.D., Leonore Annenberg University Professor in Democracy and Citizenship, who spoke about the field of superforecasting and how individuals can improve their skill in this field to "save money, time, energy and even lives."

A Big "Thank You" to All of Our Fall Meeting Cohort Leaders
The Zell/Lurie Real Estate Center thanks the following individuals for their efforts as cohort leaders during the 2016 Fall Members' Meeting.
Mitch Clarfield, Senior Managing Director, Berkeley Point Capital
Andy Isikoff, Managing Director, Silverfern Real Estate Partners
Robert Bellinger, President & CEO, ASB Capital Management, Inc
Denise Olsen, Senior Managing Director, GEM Realty Capital, Inc.
Carl B. Tash, Managing Director and CIO, Starwood Capital Group
Marty Burger, CEO, Silverstein Properties, Inc.
Cia Buckley, CIO, Partner & Managing Director, Dune Real Estate Partners
Stop, Look and Listen: Podcasts Now Available On Our Website
Faculty and industry interviews are now available through
interactive podcasts, located on the Zell/Lurie Real Estate Center's website
. Members can now listen to a variety of real estate-focused topics. New podcasts will be added regularly in order to create a perpetuating series of relevant information and discussions.
The seventh annual Eric and Beth Schlager Lecture on Entrepreneurship, November 9, 2016
John P. Grayken
, Founder of Lone Star Funds and Chairman of Lone Star Global Acquisitions. Mr. Grayken and the principals of Lone Star have sponsored seventeen private equity limited partnerships since 1995, totaling approximately $70 billion in capital investments. Grayken, a University of Pennsylvania alum, spoke about investing in times of change, dislocation and stress before a crowded room of students, members and faculty.
Zell/Lurie Gratefully Accepts Contribution from Wharton Alum Frank Gong and First Seafront Financial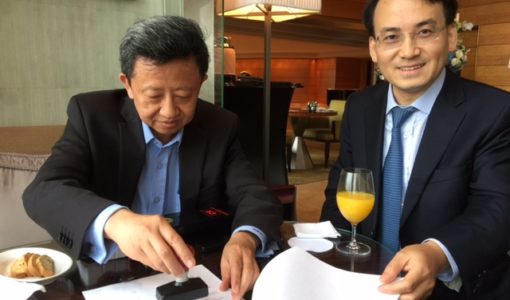 Frank Gong (left) and Wang Hong Yuan (right) finalizing their generous contribution
The Zell/Lurie Real Estate Center received a donation from First Seafront Financial, the largest private mutual fund company (in assets) in China. The company's co-founders, Frank Gong (WG'95) and Wang Hong Yuan, have agreed to donate a total of $3.125 million to the Wharton School. The Zell/Lurie Real Estate Center will receive $1 million of this aggregate for the purpose of funding a research fellow. First Seafront Financial's co-founder, Frank Gong (Wharton Ph.D., Economics, 1995), is a Wharton alum and former teaching assistant of Zell/Lurie Real Estate Center Director Joe Gyourko.
Ballard Executive Luncheons Provide Guidance to Industry Leaders of Tomorrow
The Zell/Lurie Real Estate Center hosted seven Ballard Executive Luncheons this past fall semester. The Center will hold eight additional luncheons during the spring 2017 semester. The Ballard Executive Luncheons afford students the rare opportunity to hear industry executives talk about their experiences in the field. In addition to the lecture, office hours are provided to students, who meet with the professional for one-on-one sessions of 10 to 20 minutes in length. Attendees to the luncheons are comprised of students from the MBA, Undergraduate, School of Law and School of Design Zell/Lurie Real Estate Clubs.
PARTICIPATING EXECUTIVE SPEAKERS · 2016
Marty Burger, CEO, Silverstein Properties
Anthony Dona, Founder, Thackeray Partners
Michael Elrad, Senior Managing Partner, GEM Realty Company
Bruce Gamble, Managing Director, Navigant Consulting
Bill Glazer, President & CEO, Keystone Property Group
Spencer B. Haber, CEO, H/2 Capital Partners, LLC
Bradley J. Korman, Co-Chief Executive Officer, Korman Communities
Research Sponsors Tee Off at World-Renowned Merion Golf Course

On Thursday, October 20, 2016, twelve Zell/Lurie Real Estate Center Research Sponsors enjoyed a special golf outing at the world-renowned Merion Golf Club, located along Philadelphia's Main Line. Hosted by Zell/Lurie Real Estate Center Associate Director Asuka Nakahara, these golfers battled the rolling hills and meandering stretches of greens that have confounded professionals during nineteen USGA championships and the 2013 U.S.Open. While only some golfers boasted about their scores at the close of the morning, all rejoiced in playing within the splendor of Merion's grounds.
New Members of the Zell/Lurie Real Estate Center
RESEARCH SPONSORS
Mark J. DeCesaris, Chief Executive Officer, W.P. Carey & Co., Inc.
Robert A. Faith, Chairman and CEO, Greystar
Issac D. Massry, Owner, Wharton Realty Group, Inc.
Deborah Ratner, Salzberg Presiden, Forest City Washington, Inc.
Patricia E. Werhahn, Chief Executive Officer, RedSteel Properties
Ronald J. Kravit, Senior Managing Director, Head of Real Estate Investing, Cerberus Capital Management, L.P.
SUSTAINING MEMBERS
Rafi Zitvar, Principal, Global Fund Investments
Daniel Moore, Executive Vice President, Rockafeller Group
Posted January 2017